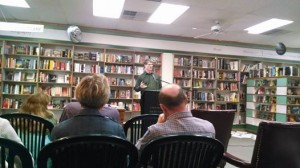 One of the pleasures of book writing is the opportunity to enjoy the company of folks genuinely invested in the culture of books and in developing a community of readers.  In short, I can meet fellow book geeks whose passion and curiosity is engaging!  So, earlier this month, it was great to spend time with event planners Kathleen Johnson of Prairie Lights Bookstore in Iowa City and John Ganiard of the Literati Bookstore in Ann Arbor who arranged and hosted my two readings.
My connection with Prairie Lights is a long one.  I bought my first books as a graduate student from the store at its first site on North Linn Street.  (I even played basketball, if my memory is to be trusted, with founder and former owner Jim Harris at a weekly pick up game in Halsey Hall.  The small gym was across from the dance studio where I watched the rigors of ballet between games.)  To return to the bookstore now that it is a kind of mecca for writers astonishes me.  Having grown up in northwest Iowa, I can tell you that it is a remarkable trek from hand-work to word-work.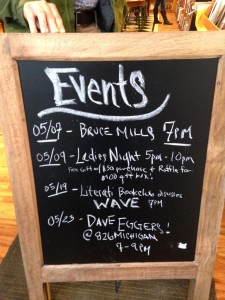 Literati is striving to generate a tradition similar to Prairie Lights in downtown Ann Arbor after the closing of the well-known Borders Bookstore.  In their blog, co-owners Hilary Lowe and Mike Gustafson write, "As Michigan natives, we both have fond memories of childhoods filled with books. Curling up late at night. Long, sunny afternoons, beachside along one of the Great Lakes, reading until the sun went down."  So, hearing of what happened with Borders, they decided to move from Brooklyn to Ann Arbor to start Literati.  In John Ganiard, they have an ideal events coordinator.  (John has an MFA from the University of Michigan.)  His introduction to my reading was genuinely moving–not simply because it represented significant time and thought (when I am sure other tasks were calling his attention) but also because it clearly reflected a deep understanding of the book.  John reminded me again of how important critics/reviewers are to the life of storytelling.  He made me see how my story was more than my own.
And so this homage to Prairie Lights and Literati, to Jim, Kathleen, Hilary, Mike, and John.  Entering an interlude in scheduled readings, I also think of and wish to thank Gloria Tiller at Kazoo Books in Kalamazoo who kicked off this series of late March and early May events with "Talking of Autism" at her Parkview store and, most recently, Debbie Thompson and Jennifer Clarke at the Kalamazoo College Bookstore.