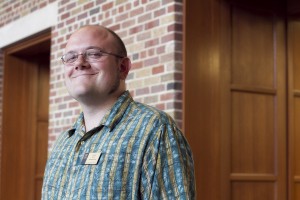 Josh Moon arrived at Kalamazoo College in the summer of 2015 but was born in Kalamazoo and has lived in SW Michigan for much of his life.  Before accepting the position of Educational Technology Specialist, he taught courses in classroom, blended, and online settings at Ohio University.  In addition to departmental classes in the arts and society, he trained faculty and staff in pedagogical techniques for effective use of their Learning Management System (LMS).
Josh received his bachelor's degree from Michigan State University and graduate degrees from Ohio University.  His dissertation, "Progress, Restoration, and the Life of Rock after Alternative," focused on competing philosophical impulses within contemporary rock music.  His non-academic enthusiasms include guitar, Michigan State football and basketball, NPR, grilling/smoking, Hawaiian shirts, and LEGO.
Josh's professional goal is to use his background in teaching along with knowledge of educational technology to help faculty enrich their pedagogy and encourage informed, self-authoring students.  As part of the team at Information Services, Josh is excited about collaborating with faculty and serving as an enthusiastic and knowledgeable resource.