An Archaeology of Yearning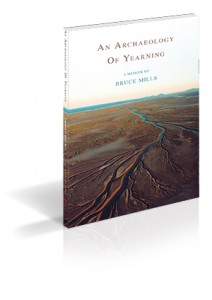 Delving into vivid moments through the metaphor of an archeological dig, this memoir maps the artifacts of life as a father of a son with autism and as a boy himself growing up in Iowa. An Archaeology of Yearning is not ultimately about autism; instead it reaches into the world of human connection and illuminates how storytelling and an understanding of shared longings keep that connection alive.
Purchase at: Etruscan Press or  Amazon
This urgent and affecting memoir of parenthood is also a testimony to the way acts of imagination can lead us out of isolation and into communion with others, however tentative. Taking clues from the cave art of Chauvet, the Wild Boy of Aveyron, the benign faces of Sesame Street's Ernie and Bert, and his son's own obsessive artwork, Bruce Mills shows how stories and images can lead us toward understanding those who seem unreachable to us, and at the same time achieve a greater self-understanding.
-Carolyn Kuebler, editor, New England Review
In this lyrically written meditation on life with his autistic son, Bruce Mills movingly probes the mysteries of kinship, sacrifice, and memory, and the desires that drive humans toward beauty and self-knowledge. Deftly weaving together his family's story with tales from history and legend, Mills's memoir illuminates the undying and unexpected power of love.
-Mark Osteen, author of One of Us: A Family's Life with Autism
Delving into the rich and strange world of his autistic son with the kind of fascination and sensitivity to nuance that archaeologists use when they delve into cave paintings, Bruce Mills has written a rare and grace-filled book, one as true to reality-bound family life as it is to the soaring speculative beauty of archaeology, history, and thought. We come away with a deeper understanding of what it is to be a parent, a family, and finally, a human being.
-Ginger Strand, author of Inventing Niagara: Beauty, Power, and
Lies and Killer on the Road: Violence and the American Interstate
Siblings and Autism: Stories Spanning Generations and Cultures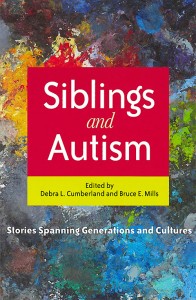 In this moving collection of beautifully-written personal accounts, siblings from a variety of backgrounds, and in different circumstances, share their experiences of growing up with a brother or sister with autism. Despite their many differences, the stories show that certain things are common to the sibling experience: the emotional terrain of looking on or being overlooked; the confusion of accommodating resentment, love, and helplessness; and above all the yearning to connect across neurological difference. Siblings and Autism is a thought-provoking book that will appeal to anyone with a personal or professional interest in autism, including parents of siblings with children on the spectrum, teachers, counselors, and psychologists.
Purchase at: Amazon
Editors Debra Cumberland and Bruce Mills have compiled a moving collection of sixteen narratives by authors growing up with siblings who have autism… There is much to recommend and to learn in this important collection of voices. In "This Night Will Pass," Thomas Caramagno poetically reflects upon the development of his brother, whose family sought effective intervention and support: "Joe David has blossomed. As I look back over the years, I realize he had been slowly blossoming all along. It was I who underestimated him, and myself, for the capacity to find solace simply in being oneself." May this memorable set of stories help others do likewise.
-ForeWord Reviews
Moving and true-to-life, the essays are troubling and yearning, full of fear and also hope and in many cases, full of love and understanding too. A book for the whole family.
-healthyBooks
As the book's editors note, the many essays in Siblings and Autism all have a similar trajectory, 'identifying difference and the struggle to acknowledge, accept, and understand that difference' (p. 25). Yet the book's very existence also is a sign of how far we have come in understanding and accepting autism, as conveyed by the individual voices of the writers who speak not simply for their siblings but through them, through an experience of growing up in, as [contributor Maureen] McDonnell writes, "autistic-American families."
-Kristina Chew, "Siblings, Autism & Autistic-American Families:Â Book Review" (www.care2.com)