Dr. Siu-Lan Tan and her colleagues have produced four books.
Routledge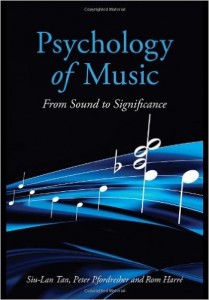 by Siu-Lan Tan, Peter Pfordresher, & Rom Harré
Published reviews
"As it stands, Tan, Pfordresher, and Harré's volume is an engaging exposition of the current state of our knowledge of the psychology of music….To paraphrase Nietzsche, experiencing music without knowledge may not entirely be a mistake, but experiencing it with the kind of up-to-date knowledge that may be gleaned from Psychology of Music is even more marvelous."
-PsycCRITIQUES
"Tan et al.'s volume is an impressive achievement and merits serious consideration by anyone teaching a survey course in music cognition or seeking to recommend to a friend or colleague….It's 300-odd pages are packed with the most detailed overview of our field we are likely to see in any text in the near term and it covers the major aspects of the field quite comprehensively."
-Music Perception
"[A]ll topics are introduced with sophistication and an interesting balance is provided between references to classical work and more recent work. Similarly, quantitative and qualitative investigations are both included….The broadness of the book is splendid and allows for a complete introduction to the field. It will indeed be invaluable to undergraduate and postgraduate studies in the fields of psychology of music…"
-British Journal of Music Education
"The field of Music Psychology has received formative influences from many domains, thus it is no mean feat to create a representative survey of the literature. The authors have met the challenge, achieving a detailed and useful introduction to the field with this text."
–Empirical Musicology Review
"We expect that this book will play an influential role in establishing the canonical organization for music psychology textbooks and hope to see it go through many editions in the years to come….Meanwhile, we heartily welcome this ambitious book as a valuable new resource for teaching the psychology of music."
-Psychomusicology
See publisher's site at Routledge
See page on Amazon
Routledge
(2nd Edition)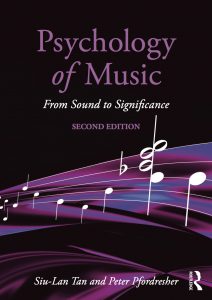 by Siu-Lan Tan, Peter Pfordresher, & Rom Harré
Published reviews

"Tan, Pfordresher, and Harré have thoroughly revised and updated Psychology of Music: From Sound to Significance with great success. They maintain the logical progression of topics from the earlier version, but each chapter incorporates new and intriguing material, ranging from practical problems in learning and performing music to philosophical issues concerning how music conveys meaning…Anyone involved in music, as performer or listener, will find an engaging array of ideas about music and human thought and emotion – and many fascinating, unanswered questions."
"Carol Krumhansl, Professor of Psychology, Cornell University
"The authors' revision of Psychology of Music: From Sound to Significance provides students and instructors with a rich and deep resource for learning about the field of music psychology. Approachable in its language and sweeping in scope, this text introduces readers to the many areas of scientific research into the powerful, deeply human experiences of listeners and performers, children and adults. I have used the first edition as a text in my undergraduate survey course for years and highly recommend this book as an excellent choice, both in the classroom and for the independent learner."
– Richard (Ric) Ashley, Associate Professor of Music and Cognitive Neuroscience, Northwestern University
See publisher's site at Routledge
See page on Amazon
Oxford University Press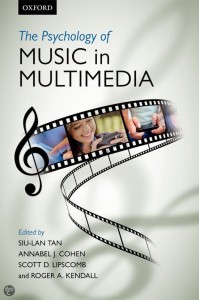 edited by Siu-Lan Tan, Annabel Cohen, Scott Lipscomb & Roger Kendall

Published reviews
"The Psychology of Music in Multimedia marks a critical turning point in re-envisioning the established methods for analyzing music and moving image within multimedia…. The authors provide an exemplary blueprint for critical inquiry, gearing the concerted efforts of diverse scholars toward interdisciplinary and broad-based analytical strategies. In essence, a collaborative approach for a collaborative medium."
– Ronald Sadoff, Chair of Music, Director of Film Scoring, NYU
"This cutting-edge collection of essays highlights new perspectives, research, and ideas about how music impacts many different kinds of media, from film to video games to television advertisements. Any serious media scholar will want this volume as part of their library."
– James C. Kaufman, Professor of Psychology, University of Connecticut
"The Psychology of Music in Multimedia presents a fascinating introduction to the many psychology-based approaches towards understanding our relationship to media. The authors tackle diverse areas relating to sound in TV, software, film and games to show the impact that sound and music has on multimedia, suggesting that sound is an overlooked and influential force for emotional and engaging experiences….This book is sure to become essential reading to anyone working on media music."
– Karen Collins, Research Chair in Interactive Audio, University of Waterloo
"This well-edited, laid out, and contextualized collection of essays provides a much needed resource on a topic whose rigorous examination has, until now, been limited to scholarly articles scattered amongst a variety of academic journals….The book's contributors and editors represent a 'who's who' in the area and their work provides rigorous substance to the ever-growing realization that the presence of an image changes what we 'hear' and the presence of a sound changes what we 'see.' A must-have resource for experts, students, and practitioners of the topic alike."
– Pantelis Vassilakis, Chair of Audio Arts and Acoustics, Columbia College
See publisher's site at Oxford University Press
See page on Amazon
Oxford University Press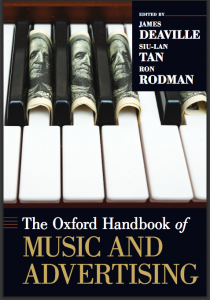 edited by James Deaville, Siu-Lan Tan, & Ron Rodman

(Forthcoming 2021): The Oxford Handbook of Music and Advertising is an essential guide to the crucial role that music plays in relation to the audio or audiovisual advertising message, from the perspectives of its creation, interpretation, and reception. The book's unique three-part organization reflects this life cycle of an advertisement, from industry inception to mass-mediated text to consumer behaviour. Experts well versed in the practice, analysis, and empirical studies of the commercial message have contributed to the collection's forty-two chapters, which collectively represent the most ambitious and comprehensive attempt to date to address the important intersections of music and advertising.
See publisher's site at Oxford University Press
See page on Amazon